THE EUROPEAN TRAINING AND CERTIFICATION SYSTEM
The following summarises the qualification structure and the process of qualification.
THE EUROPEAN TRAINING AND CERTIFICATION SYSTEM IS DESIGNED TO PROVIDE COMPETENCE BASED QUALIFICATION AT THREE LEVELS:
A Qualified Value Associate (QVA) is someone who has a good understanding of the principles and the basic tools of Value Management and is able to apply them within day to day work and contribute effectively as a member of a value study team. The qualification does not imply any competence to design or lead a value study.
A Professional in Value Management (PVM) is someone who can design and lead a value study of at least moderate complexity in a familiar business environment, and who has the basic understanding to be able to apply this capability in more diverse situations. Highly experienced PVMs may address issues with high levels of complexity across different business sectors, but that is not the standard which a newly appointed PVM is expected to achieve.
A Trainer in Value Management (TVM) is someone who has considerable experience in the application of Value Management, and in addition is competent to design and deliver training and mentoring both in terms of theory and practice.
THE SCHEME IS DESIGNED TO MEET THE NEEDS OF THREE PRIMARY GROUPS:
Management and staff who are seeking awareness of Value Management.
Practitioners, who intend to apply Value Management.
Trainers and staff in higher level academic establishments who wish to help others develop competence in Value Management.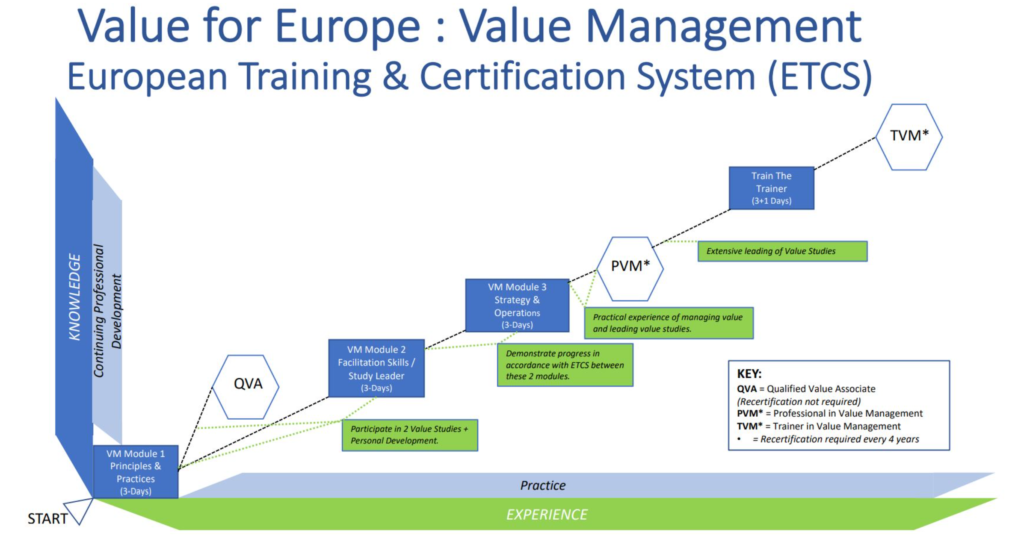 The System is based upon European Standards in Value Management (EN 12973 and EN1325) as such this is the first internationally integrated Value Management training and certification system in the world. It will make it easier for global organisations to have a common value based approach to increase their competitiveness.